MEET THE LECTURERS 2022
Alan Osmanagić
INFIGO IS d.o.o.
Lecture:
How to detect and prevent hackers in your network?
Alan is a skilled security professional with extensive experience in blue team practices and incident response. He has polished his blue teaming skills implementing many SIEM and other security solutions as well as responding to some of the highest profile incidents in the Adriatic region in the past years. Alan holds a number of security certificates, including GIAC GNFA, GDAT and Splunk Core Consultant.
Božidar Radosavljević
ComTrade System Integration
Lecture:
Power Platform Security and Governance
Božidar Radosavljević is MCT and CEH trainer.
Guillaume Winter
Salesforce
Lecture:
Securing your GitHub Org
Guillaume Winter is a Senior Platform Security Engineer at Salesforce. Over 12 years in the IT industry, he moved from being an infrastructure person (from sysadmin, to devops, to SRE) to Software Engineer, to finally be an Security Engineer. He is excited about a wide range of topics, including anything related to cloud security, and is always happy to find ways to automate operations and security checks, and more generally anything that can be automated. Currently, he works on container and cloud security engineering, with a focus on Continuous Assurance. In his free time, he enjoys rock climbing, building mechanical models and outdoors.
Luka Milinković
NLB Bank Belgrade
Lecture:
The Power of Phishing Attack 2.0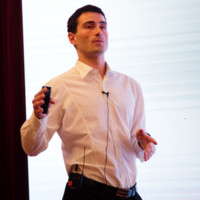 Luka Milinković has many years of experience in controlling and managing of IT security risks through the development of new solutions and performing IT audits. Luka has participated in various projects such as development and implementation of crypto algorithms and protocols, authentication methods, GDPR, application of AI & ML in business, digital payment systems, blockchain technology, data protection and implementation of models for the automatic detection of internal/external fraudulent acts. Luka has experience in defining and improving the ITIL processes and IT controls, strategic IT management and IT risk management. Luka is a senior IS auditor at NLB Bank Belgrade and responsible for audits of IT processes, data protection, security and application controls. His passions are cryptography, authentication algorithms, blockchain, security design and Lego.
Lecture:
Securing your GitHub Org
Matthias Luft is a Principal Platform Security Engineer at Salesforce. After more than 12 years in IT Security, he is still excited about a broad range of topics (from hypervisors via containers/clouds to IT security management/leadership) and has had the opportunity to present on them around the globe. Currently he works on container and cloud security engineering. In his free time, he enjoys the outdoors, martial arts, and spending time with dogs.
Pedro Ribeiro
Agile Information Security
Lecture:
Router Vulnerabilities in the Past, Present and Future
Pedro started working in security by doing ISO27001 audits. After almost dying of boredom, he jumped into penetration testing, reverse engineering and vulnerability research, focusing on embedded systems and enterprise software.
He is the Founder & Director of Research at Agile Information Security, a boutique security consultancy that focuses in providing hardcore technical cyber security solutions to its clients.
In his spare time Pedro hacks hardware and software and has made public dozens of remote code execution vulnerabilities resulting in 160+ CVE, and authored 60+ Metasploit exploits. He regularly participates in Pwn2Own as part of "Flashback Team", winning Pwn2Own Tokyo 2020 outright with his teammate Radek Domanski.
Pete Finnigan
Pete Finnigan Ltd.
Lecture:
Create Onion Layers of Security around your data
Pete Finnigan is one of the most well known experts in database security. Pete Finnigan created the SANS Oracle security step-by-step guide and the CIS Oracle benchmark used by NIST, USA DoD and more is a reference to secure Oracle databases. Pete worked out the mechanisms that Oracle used to protect PL/SQL and showed how they can be easily defeated at the Black Hat conference in Las Vegas in 2006. Pete has published multiple books on databases security and speaks and publishes papers regularly. His company also produces the tool PFCLScan used to protect Oracle databases.
Sergei Voroncov
ARIGAMIX d.o.o.
Lecture:
ECM|BPM platforma naslednje generacije za varno digitalno transformacijo vašega biznisa
Tudor Damian
Microsoft Cloud & Datacenter Management MVP, Certified Ethical Hacker
Lecture:
Demystifying Zero Trust
As an IT consultant with more than 15 years of experience in managing complex IT infrastructures, Tudor is a Certified Ethical Hacker, a Microsoft Cloud and Datacenter Management MVP, and a regular speaker at local and regional community events. He is also one of the founders and organizers of the ITCamp conference in Romania (itcamp.ro). bringing together tens of awesome speakers with hundreds of attendees every year.
Tudor often talks about the latest technologies and trends, with themes including cloud strategy & governance, digital transformation, cybersecurity, business process optimization, IT risk management & compliance.
7.-9.9.2022
Nova Gorica
Take advantage of a 3% discount, only valid until 25.5.2022